Tony Johnston, the Man and the Artist. Words and Pictures by Burg
I was told by a curator a few years back that 'Man Alone is no longer fashionable.' It was in response to a proposal I was writing on behalf of artist Tony Johnston. I was not writing about an intellectual theory but describing the conditions that informed Tony's art. Living out on Kaiaua's stony foreshore between an Urupa and the ever changing light of the Firth of Thames, Tony lives to make art. He definitely is not fashionable and, there is barely any time left in his days to worry about the needs of anybody else,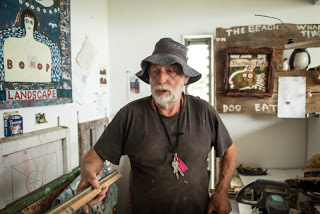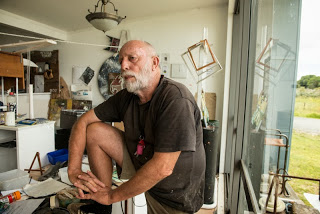 His painting style has been described as naive, I'm sure that label wouldn't offend him. I prefer primitive. His work is raw and ostensibly unsophisticated but equally visceral. Sit with them a while and you'll find nothing remotely innocent about his subject material nor his technique.
While he is probably an enigma in the art world,miraculously his work features as part of the NZ Parliamentary collection and at the Manukau City Council Chambers. He was for sometime represented by dealer Warwick Brown at Portfolio Gallery. His iconic Oyster Catcher sculpture, now the symbol of theSeabird Coast takes pride of place on the beachfront just south of his studio. 'It's an on going project, the ground around it never got finished. But,' he laughs 'not many people get to build their own gravestone.'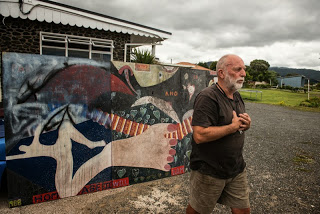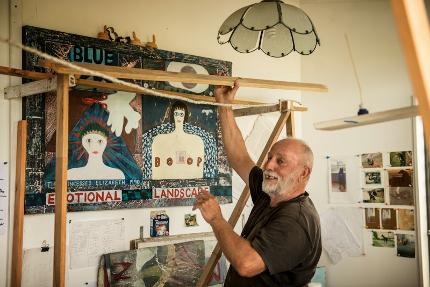 Equal parts convoluted, anecdotal, barbed and jarring his art is as funny and as prickly as the bloke himself.