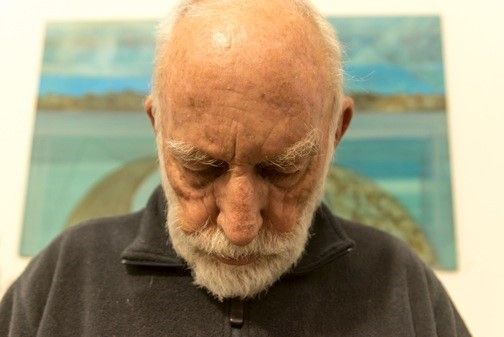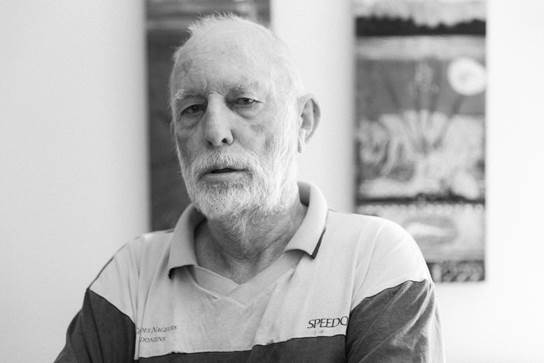 The Penguin Studio is located at Whakatiwai near Kaiaua on the Firth of Thames and has been used as a working space continually and living space for short and long periods over the last 22 years by Tony Johnston.
In that time he has had exhibitions at Portfolio Gallery and Warwick Brown's Ellerton Gallery in Mt Eden.
He has built the Torea Mangu Sculpture situated adjacent to Kaiaua.
He is also working on new and old paintings and has finally built a kiln that he can fire predictably enabling him to complete more tile sections for the bird sculpture and to hopefully commence raku firing and pottery tuition experiences.
Colour portrait of Tony Johnston by Jason Burgess
Black and white portrait of Tony Johnston by Jonathon Clark.
Resume of- Anthony Thomas Johnston.
Born Cambridge New Zealand July I5,1945.
1965-66. First became interested in Art at Ardmore Teachers Training College.
1967-73 General Primary Teaching, taking over family news agency business.
1974-75 Small resin manufacturing business relieving teaching.
1976-77 Formation member Weymouth lntermediate. H.O.D. Art and Technology.
1978-79 Studied Pottery with Peter Stichbury. Painting full time. First one man exhibition Nathan Homestead Manurewa.
1980-81 Full time painting and potting. Commissioned under P.E.P. scheme to do the
Rua Murals now hanging in the Manukau City Council Chambers. Two more one man shows Nathan Homestead.
1981-82 Completed twelve month commission to do Manurewa Library Mural.
1983-89 Rosehill College Night School.
Tutoring in School Cert. Art, U.E. Art, and Pottery.
Continuing to paint and pot.
Adult and children's art and pottery classes Massey Homestead Pakuranga Cultural Centre.
Four more one man's shows split between Massey Homestead and Pakuranga.
Worked at Manukau Polytechnic as Video Technician and part time tutor. Taught classes in basic techniques of video production.
1989-90 Leased a small house in Kuratau Lake Taupo. Painted solidly. No rnore pottery. Lived on proceeds of house sale.
Taniko series Tukutuku series, Boudoir Theatre series.
1991-93 Lived in Wellingon. Started developing technique of rubbing back and re- painting mainly because I wasn't selling. All I had was lots of paintings that had lost their relevance to me. Two one man shows City Limits Cafe Bar Bodega. Emotional Landscape Series. Rangi Papa series. Continuation of Tanikos and Tukutukus.
1994-95 Based in Rangitaua central Nth.Is. Helped arrange and exhibited at the first Ruapehu Ski Foundation Exhibition Chateau Tongariro. First started using topographical maps as supports for that generation of Tukutuku series .More Emotional Landscapes.
Vulcan series, eUrupa series, N.I.M.T. series started.
1996 Shifted to Kaiaua Firth of Thames (where I am still working). Completed Vulcan Series eUrupa series N.I.M.T. series and Cara Capsules. First Exhibition at Warwick Brawn Gallery.
1997 New eUrupa series, Shrine series and interactive N.I.M.T.s. Second exhibition Warwick Brown Gallery, Der Blindt Reiter series, Range series (first works on paper).
First Exhibition at Portfolio Gallery.
1998 Another eURUPA series. Moehau series, serious research into the concept of inter active art where the client can rearrange the work. Another show at Portfolio.
1999 Running men series. Experiments in non standard shapes. More shrines. Starting to place paintings on top of each other so they can be displayed as a unit or separately. Looking at making paintings that can hang upside dawn or the other way. Another show at Portfolio.
2000 Starting work on kiln at Kaiaua. Small scale ceramic activity. Gone with the wind series. More interactives. Another show at Portfolio. "'Rag Doll / Oskar Kokoschka was OK" sold to Parliament. Now hanging second floor Parliament Building. Applying for Tylee Cottage Residence
The paintings of Tony Johnston
While undoubtedly an outsider, Tony Johnston is an important 'below-the-radar' artist. With a superficially naïve style, Johnston's work is full of complex detail and is the product of long periods of contemplation and re-working. Finished works range from gentle and lyrical to aggressive and confronting. He is an expressionist, meaning an artist whose work is broadly figurative, but is presented in a loose, dramatic, vigorous or emotional way. He is not a prolific producer, but has been painting for fifty years. His work has not found its way into major public collections, but those lucky enough to own one of his works can testify to the staying power of his art. Johnston has a sure sense of colour and composition, both being balanced and contrasted with often surprising results. A distinctive element is the handling of paint, whereby numerous coats are applied, allowed to dry hard, rubbed back, repainted and glazed to produce a surface where every square inch is full of incident, subtlety and mystery. His subjects are human and animal figures, often distorted in surreal fashion, and landscapes, often views of the Firth of Thames and the hills that form its eastern boundary. He is interested in conservation (the habitats of birds) and recycling (his use of fence palings, found boards and used wood panels as supports).
Like the now venerated Colin McCahon, Johnston uses text in much of his work. Unlike McCahon's fluid writing and poetic and spiritual references, Johnston uses block texts like a fairground poster. The message is often enigmatic and tongue-in-cheek, posing a challenge to the viewer to relate it to the painting in question. Although he has produced a number of paintings in series (e.g. the Birdness, eUrapas, N.I.M.T and Patron Saints) Johnston's works are always unique, always challenging. A visit to his seaside studio is a voyage of discovery.
WARWICK BROWN
2019