There are currently two worktables, one large (the original) which was going to be moved outside but is now being used for painting as well as clay activities and one small that is being used for clay fettling and tile production by friends and patrons when they take up the offer to make a tile with their name on it. The smaller work table was set up for the weekend of November 30 and December 1 when a small number of people made their tiles and other items.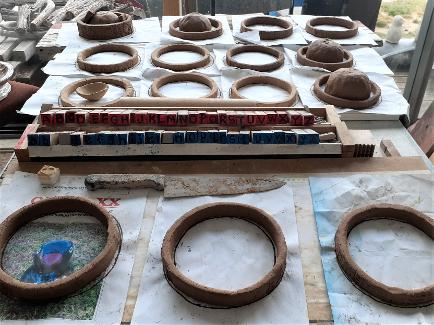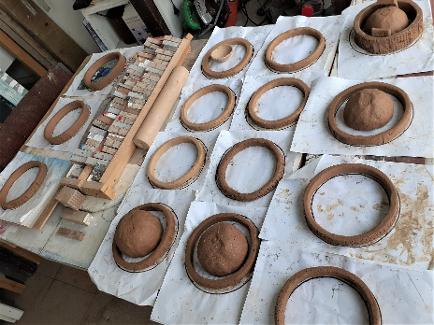 SMALL WORKTABLE DECEMBER 2
These two photographs show raw tiles and associated works made by Friends and Patrons over the weekend of November 30 and December 1. There is only one set of stamps to use to make the Birdleg tiles so a little pottery lesson resulted in some pinch pots being produced as well as the tiles. The group involved expressed an interest to return and glaze their work once fired.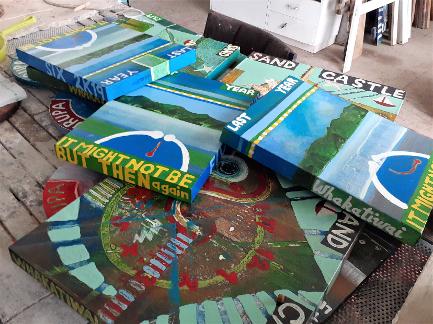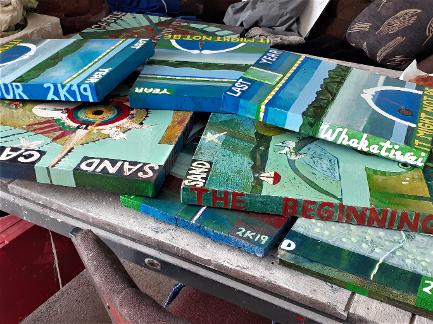 Now being used for painting activities showing Sand Castle Triptych and Whakatiwai Last Year drying in
in stacks after having washes applied waiting to go back up on the South Wall.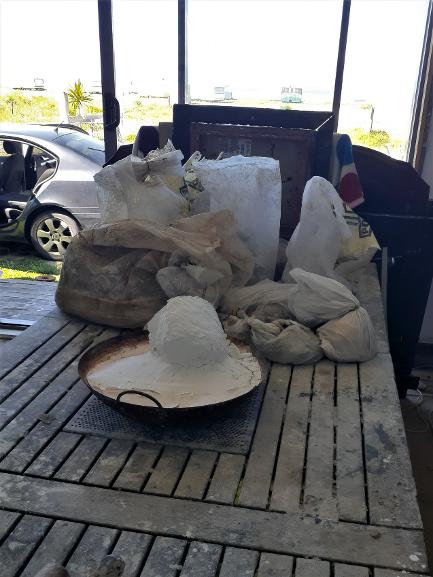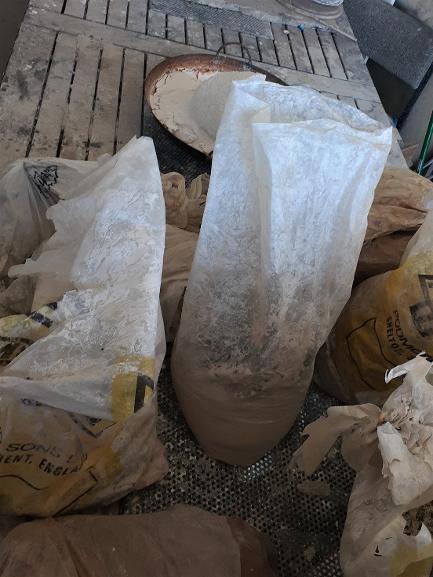 OCTOBER 17 KILN STACK PRACTICE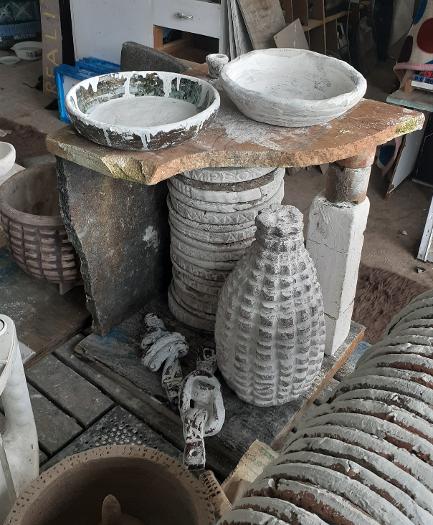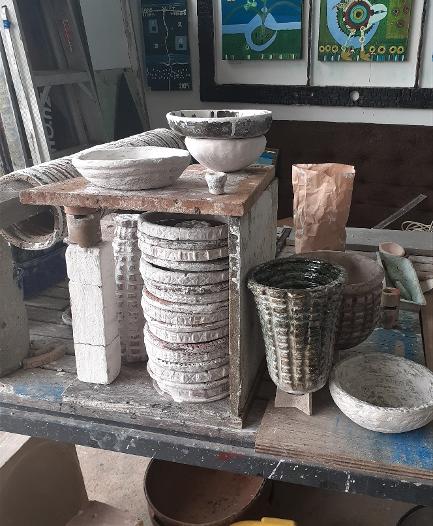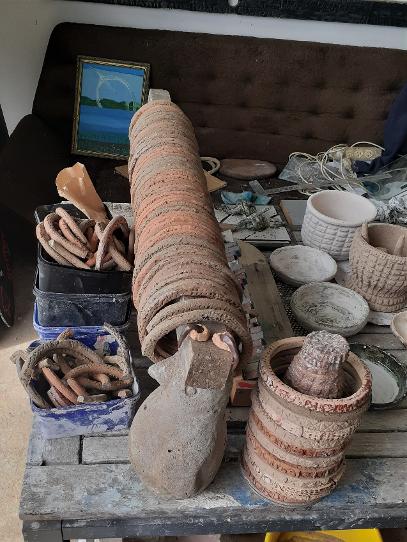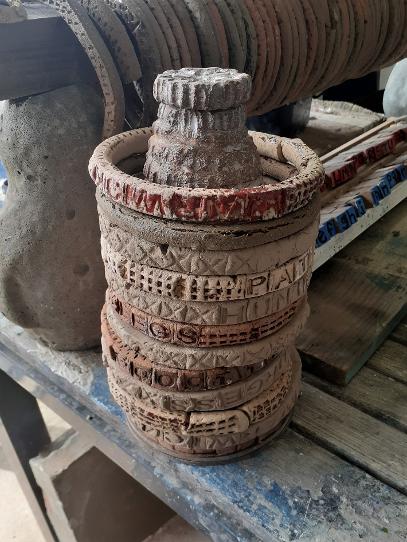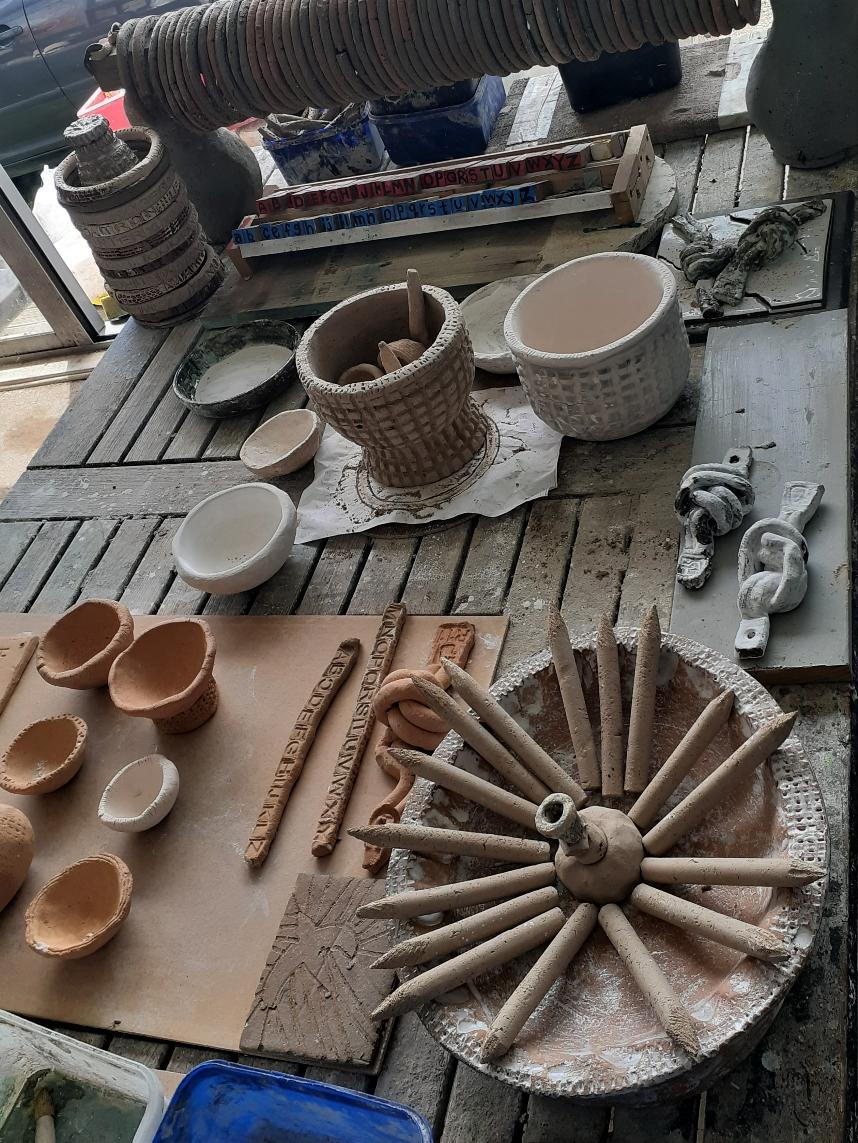 These pictures show a range of work getting ready to be fired in the kiln. In one photo you can see Bottle BL2 placed inside a pile of Bird leg tiles, some previously fired, some embossed all waiting for more glaze experimentation as is the bottle. In another photo you can see adjacent to the bottle and tiles mentioned above earlier bird leg tiles on a horizontal rack also awaiting glaze application. The other two photos are from different ends of the table and show several small plates being re-glazed, two larger bowls one raw, one being glazed, raw prototype picture frame spikes arranged in a radial pattern and a collection of bisque fired ware that has been made by a student ready to be glazed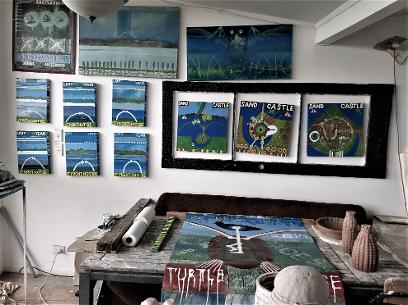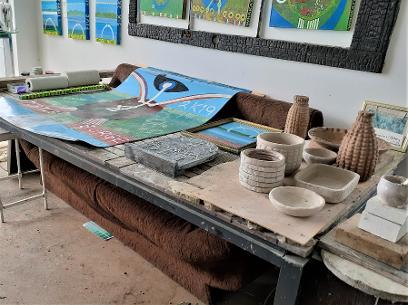 More ceramic production is going on with two carved and stoppered Bird leg bottles and the first
Count Your Blessings bowl now drying with the slabware from the 30 August update
On the work table is an old Vulcan series (painted on canvas backed lithograph flexible plate) which has been reworked over the years getting it's hopefully final treatment ready for display on the Western Wall.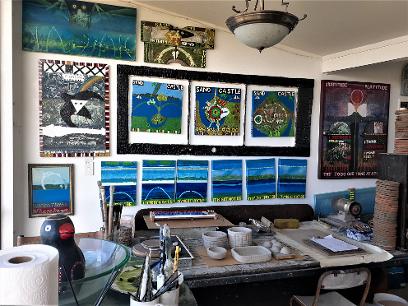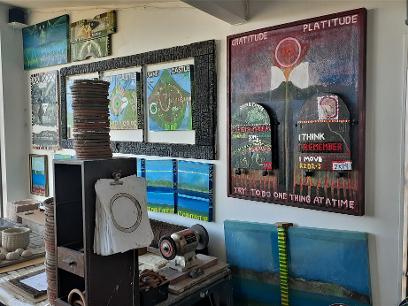 Things have changed on the work table with ceramic production under way. Old bird leg tiles are being reviewed and if you look closely you will see a pile of new model leg tiles sitting on an electric stove hob at the left of the work table. More obvious are the proto models of a range of slabware in totally dry state getting their final workout before going to the kiln for their first firing.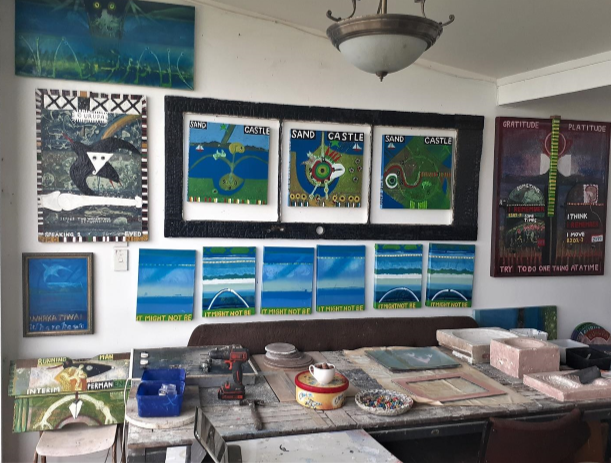 The work table is getting ready for ceramic work, both individual pieces and Bird Sculpture Leg Tiles.